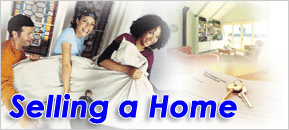 If you are thinking of selling your home, chances are you're caught up in a mass of emotions. You may be looking forward to moving up to a new home or facing the uncertainty of a major move across country. You may be reluctant to leave your memories behind or eager to start new and exciting adventures.   Remember, I am here to help you with any of your needs.  Call or e-mail me today!  
To discover what your home is worth in today's market, click here!
Getting Your House Ready to Sell
Want to Start Off With a High Sales Price?  Beware!
Types of Listing Contracts
Details of a Listing Contract
Listing Commissions and Related Issues
The Listing Agent & Marketing Your Home
The Listing Agent – Marketing Your House to Other Agents
The Listing Agent – Marketing Your House to Homebuyers
Showing Your House to Home Buyers
What is Your Home Worth in Today's Market?
[contact-form-7 id="1970″ title="What is your home worth in today's market?"]
By submitting this form with your telephone number you are consenting for Patti Farley-Barker and all authorized representatives to contact you even if your name is on a Federal or State "Do not call List".
Thank you for submitting your information. I will be in contact with you by phone or email.